"We make our world significant by the courage of our questions and the depth of our answers." – Carl Sagan
Preparing foster youth to transition from dependence to independence, into healthy and contributing members of society, might be one of the most important goals of the foster care system. Yet, this rarely happens. We must do a better job with transitioning children from foster care to independent living. We all know this is important, yet we fail at making sure this task is completed correctly. In my recently released workbook Succeeding as a Foster Child, I provide the roadmap needed. In the book, I provide the master transition plan and interactive resources needed for any foster child to succeed.
As a former foster child myself, I recognize there are key pieces of information that you must become familiar with. The first of which is the transition plan (otherwise known as an exit plan). Federal law requires that a caseworker, or another appropriate child welfare professional, provide youth with assistance and support in developing a transition plan to develop a youth-led, personalized plan that is as detailed as possible. Again, this rarely happens.
So, let me demonstrate how to make it happen. This is the third part in a series of articles with tools from my workbook – Succeeding as a Foster Child. Use the following information and images as tools to help a foster youth succeed. This series and my book can be used by social workers, foster parents, foster youth, child advocates, biological families, and of course . . . foster children.
Read part one here: Positive Thinking
Read part two here: See Opportunity in Every Difficulty
Finding a Positive Mentor
"Accept what you can't change. Change what you can't accept."
Every person needs a positive mentor. This is a person you can turn to when you need advice and guidance. You must seek out your own personal mentors because they will not necessarily find you. You may find that you have multiple mentors in life. One individual may provide professional guidance, while another provides spiritual, and still another, personal. As a foster child, it is vital to identify a mentor you can trust and learn from. Seeking a mentor may be as simple as discussing issues or having a conversation with a person you trust and admire. Your foster parents may be excellent mentors to guide you through childhood into adulthood.
Finding a mentor is crucial as you navigate through the goals you have established and the new opportunities you embrace. The experiences you have with your new, positive outlook may be overwhelming. Your mentor can help guide you, answer questions, and connect you to additional resources. Strategically giving a person this role in your life is an important step in achieving your goals. A mentor is security, a person who can travel the journey with you.
Use the following advice when seeking out a mentor:
Find someone who has either been where you are or someone of influence (such as a foster parent, teacher, or a coach).
Make a list of questions to ask about learning life skills and obtaining your goals.
Listen to the response. If you receive a positive feeling about his or her response, then follow that advice. If you receive a negative feeling about his or her response, then be gracious and politely exit the conversation.
Find mentors for different areas in life. For example, if your goal is to go to college, find a teacher or guidance counselor who can help you explore and prepare.
Keep a written list of your mentors. Don't forget to add to that list often. Continuously thank your mentors for their time, energy, and guidance.
The following are actual tools from Chapter 3: Positive Mentor found in Succeeding as a Foster Child: A Workbook.

Find a Mentor
"Life isn't about finding yourself. Life is about creating yourself." – George Bernard Shaw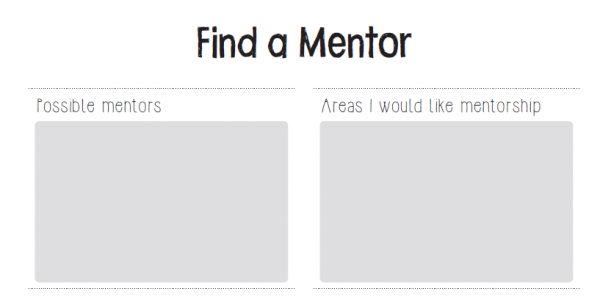 Time Wasters
"The butterfly counts not months but moments and has time enough." – Rabindranath