Ahmadria from Texas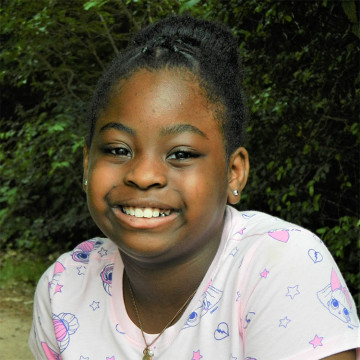 Age 11
Gender Female
Location Texas
Ethnicity African American
Case Number 92946
---
Ahmadria is full of joy and has a sparkle when she smiles. She has a great sense of humor and loves to make those around her happy. She enjoys playing with her dolls, getting her nails painted, and dancing. She also loves to be outside and likes it when they are able to go swimming. She is very bonded to her siblings and enjoys playing with them. Ahmadria is a child that enjoys being on the go--whether riding bikes, swimming, or going to get her nails done! Her favorite classes at school are Physical Education, Reading, and Math. Her favorite foods include burgers, potatoes in any form, and broccoli rice casserole. Ahmadria is artistic and loves doing arts and crafts. Ahmadria is a very determined child and hopes to find a family that will help her achieve her goals!
A'Zaria, Ahmadria, and Ahmadrick have a typical sibling relationship. A'Zaria loves her younger siblings as she was a caregiver for them for many years. She has worked on stepping out of that caregiver role and being a kid. Ahmadria enjoys playing with her siblings but really enjoys one on one time with caregivers. Ahmadrick misses his other two younger siblings more than the older sisters, but they all wish to maintain a relationship. All three children are very active and interested in a variety of activities. They enjoy comedy and making each other laugh. They each love animals and hope to have a home with a pet. The siblings love being outdoors camping, riding their bikes, or going on walks. Each child has their own set of interests and love to show off their talents!
Ahmadria's forever family will allow her foster mom to continue to be a supportive adult in her life. Her forever family will adopt Ahmadria and her siblings and help her feel connected and secured. Her forever family will be able to spend quality one on one time with her, show her affection, and also set firm boundaries and expectations.