Aiden from Texas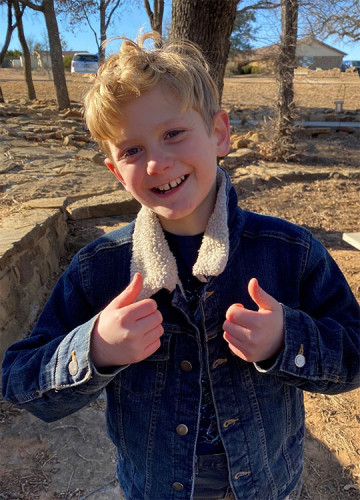 Age 11
Gender Male
Location Texas
Ethnicity NA
Case Number 94146
---
Aiden is a very smart and vibrant boy. Aiden has an outgoing personality and is competitive. He is a leader who enjoys a good challenge. He has a huge interest in reptiles and is very knowledgeable about US Presidents. He loves to be outside in nature exploring, fishing and hiking. He is a very inquisitive boy who loves learning new things. He can be fearless at times and benefits from reassurance. He likes action figures and has a great imagination. He enjoys Legos and reports that building with Legos is very calming for him. Aiden also enjoys drawing and coloring. He thrives with one on one attention. Aiden would like to be adopted with his brothers into a loving, nurturing, and supportive forever family.
William (who prefers Bobby), Marshall, and Aiden are three brothers who are full of energy! They are all boy! Bobby is the eldest brother who strives to please others and has a strong desire to be accepted. He enjoys all things Minecraft and currently participates in martial arts. Marshall and Aiden are twins. Aiden has the stronger personality of the two, and he is definitely a leader. Marshall has a strong personality as well. The twins like anything Star Wars. They also like being outdoors exploring nature. Marshall enjoys organized sports, while Aiden likes swimming. All three boys have unique personalities. With support and encouragement, they enjoy spending time together playing board games. This sibling group of brothers enjoy reading in their free time and love being outside, fishing and hiking, and being able to run, run, run.
Aiden will best benefit from a two-parent home with a mom and a dad. He will do best in a home with just his brothers (unless the other children are significantly older). His forever family will be sure that Aiden and his brothers receive supportive services as a family. Aiden's forever family will be dedicated to him. His family will provide him a lot of support and understanding. Structure and consistency are a must. Aiden's family will love him unconditionally and be patient with him as he will push boundaries with his behaviors.