Artavius from Texas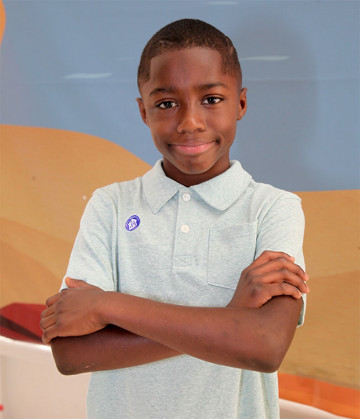 Age 10
Gender Male
Location Texas
Ethnicity African American
Case Number 92419
---
Artavius is a smart and energetic boy that enjoys watching Sonic the Hedge Hog and Mario. He is outgoing and enjoy being active. He enjoys playing with his own toys and typically does not want to share them. He likes to be respected and wants others to ask to play with his toys. Artavius is good at giving instructions and directing his younger siblings. He is very good at expressing his frustrations with any thing that he does not like. He wakes up ready for the day and maintains this disposition through out the day. He enjoys coloring, playing outside, and riding his bike. Artavius enjoys being the center of attention. He is learning to be more respectable and will benefit from reminders and redirection. Artavius will be a great addition to a loving and caring forever family.
Artavius, Anthoney and Antwann get along well together. They enjoy sharing toys with one another and going outside throwing the football. The children also enjoy going to sporting events, the museum, the movies and the park together. This sibling group likes to joke with one another as well as watch television together. When they are not together, they regularly video chat and talk on the phone. This sibling group likes to go to their favorite restaurants together and enjoy their favorite meals. Artavius enjoys playing football and video games. His favorite food is hamburgers. Anthoney enjoys playing with his tablet and video games. Anthoney's favorite food is hotdogs. Antwann enjoys playing video games and his favorite mind craft. Antwann's favorite food is chicken nuggets. They are always at their happiest when they are together.
Artavius' family that is able to provide a good balance of patience, structure, and consistency while allowing him to explore different interests as he grows into a young man. In addition, his family will promote education and have structure that would benefit Artavius as he continues on his educational journey. Artavius will easily bond with a family that is active and engaged in ongoing activities. Also, Artavius family will be willing to provide support services and attention for all of Artavius needs.