Dylan from Texas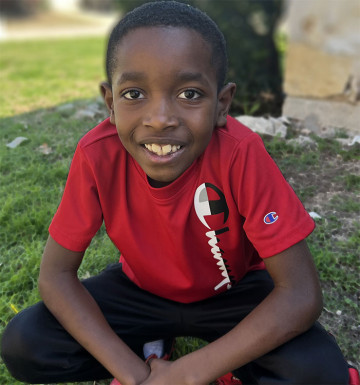 Age 8
Gender Male
Location Texas
Ethnicity African American
Case Number 106889
My Siblings Xander
---
Dylan is a smart, sweet and sensitive child. He loves soccer, outdoor activities, and staying busy. Dylan enjoys being outdoors and uses any excuse he can to be outside and active. Dylan is compassionate and resourceful. He likes to play with Bakugons and other children. He is resilient and resourceful. Dylan is a bright, engaged child who enjoys learning and thrives in the classroom. He is proud of his achievements in learning and continues to make huge progress in reading, and he is reading well above his grade level. Dylan likes to gain the approval of others. He enjoys playing with action figures with his friends and family. Dylan is very friendly with other children and enjoys making new friends at home and school. He also enjoys video games and cartoons, especially ones he finds funny.
Xander and Dylan are brothers who enjoy being in each other's company. Xander and Dylan rely on each other for support in their journey through life together. Though they don't always agree, Xander and Dylan love each other and support each other in ways that are beneficial to them both. Dylan and Xander like to be active and engaged in outdoor activities. Both boys enjoy playing with Bakugan toys together and playing various sports together, like soccer and running. They are competitive with each other and enjoys channeling their energy into the game. Both boys enjoy riding bikes and scooters together and enjoy making it a competition of who can go faster or do tricks better. Xander and Dylan would like to be adopted together. They will be a great addition to a loving and caring family.
Dylan's forever family will provide structure and consistency. They will offer a gentle, loving environment. Dylan's family will be actively involved in sports and activities in the community. Dylan would benefit from a male role-model in the family for him to look up to. Dylan's family will stay busy and live an active lifestyle.