Emery from Texas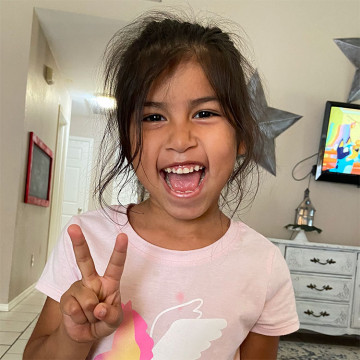 Age 7
Gender Female
Location Texas
Ethnicity Hispanic
Case Number 98887
---
Emery is an extroverted, energetic, caring and sweet little girl. She is an energetic child who loves to use her imagination while playing with her siblings or even when she is playing alone. Emery loves to play with barbie dolls and stuffed animals as she enjoys actively using her imagination to create her own make belief play. Emery is always eager to meet new people and build new relationships. She can be very active and silly, but when she is asked to do something, she follows directions very well. She loves to make new friends and loves to help her teacher in the classroom. Emery is not picky when it comes to food, but she loves to eat chicken nuggets as that is her go to food! Emery is learning to express her feelings and she loves to share them in any way that she is allowed.
Nayeli, Royce, Emery, and Evelyn are a sibling group who loves each other very much and enjoy their time together! Nayeli is the eldest sibling; she has a very outspoken, friendly, and caring personality. She is open to playing with anything, as she has a big and creative imagination. Royce is the second eldest of the group; he is outspoken, loving, and active. He enjoys playing with superhero toys, cars, and playing outside whenever he has the chance. Emery is the third in the group; she is a hyper young girl who has a very affectionate and loving personality. She really enjoys using her imagination, and she is not picky over which toys she plays with. Evelyn is the youngest of the sibling group; she is an active child who loves to play with her siblings, especially being a part of their make-believe games. She has a loving, outspoken, and affectionate personality. Evelyn is like her sisters, and they share the same interest, using their imagination for play. All four children eat well and are not picky eaters. This group will thrive in a family who accepts them and all their interests!
Emery's forever family will be one that shows her love and affection. She would love to be adopted into a big family that is willing to love and accept both her and her siblings. Emery would benefit from a family that can show her how to have healthy boundaries with new people. Emery desires a family that will engage with her when she is pretend playing but will also teach her new things.