Giovanni from Texas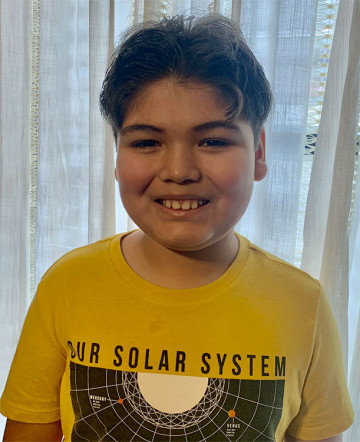 Age 10
Gender Male
Location Texas
Ethnicity Hispanic
Case Number 87125
---
Giovanni is an active child who likes to be outdoors as much as possible! He loves playing a game of tag or hide and seek. One goal Giovanni has is to learn how to swim. He has a sensitive personality and a really big heart. Giovanni is always thinking of others and taking their feelings into consideration. He likes all the Avengers characters, but his favorite is Captain America. His favorite color is blue and his favorite subjects in school are math and P.E. He has mentioned that he is not a picky eater and loves kid's meals from all types of fast food restaurants. Though, he also enjoys homemade meals. Giovanni likes playing with hot wheels and playing basketball with his siblings. He also enjoys summer camps and creating arts and crafts. Giovanni likes to play X-Box on his free time and likes to ride his bike to stay active.
Aisha, Elizabeth, and Giovanni cannot wait to join their forever family! Although the three siblings have individual interests, they interact well with one another and enjoy playing with phones or tablets and spending time outdoors together. The children enjoy traveling together and making fun memories. The road trips they take let them to sight-see and learn together. Elizabeth is the eldest of the siblings, she is also the most reserved, but will open up to you as she gets comfortable. Aisha is the more athletic sibling and she likes to make the others laugh. Giovanni enjoys spending time with his sisters. These three maintain good communication with their siblings, who are not a part of this adoption. The children enjoy celebrating all occasions and having a fun time on outings and celebrations. Together, the siblings have a good connection with each other. They enjoy spending time together, catching up, and sharing stories.
Giovanni needs a family who is both affectionate and reassuring. He would like to have a mom and dad for himself and his older sisters. Giovanni would also love to have a family pet, preferably a dog. His family will support and encourage him to maintain a relationship with his older brothers who are not a part of this adoption.