Jada from Texas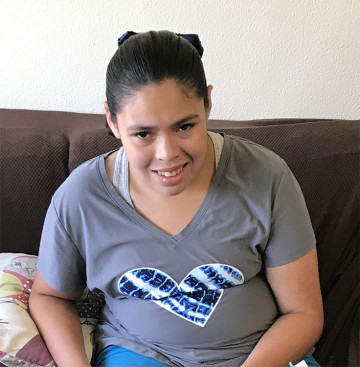 Age 15
Gender Female
Location Texas
Ethnicity Hispanic
Case Number 93749
My Siblings Mia
---
Jada is an introverted, energetic and assertive young girl that enjoys playing with puzzles, coloring, watching Frozen on Disney, and playing with her older sister, Mia. Jada is a child that enjoys playing video games and/or electronics, but would much rather play outdoors such as running around, swimming, and playing with older sister, Mia, as both girls enjoy playing with each other especially when they swim. During the summer time Jada is particularly fond of playing in water parks as she enjoys cooling off and playing with water with herself and her older sister. Jada truly enjoys being in a cool environment, and if unable to swim to stay cool, Jada enjoys being in her room, playing with her older sister, and watch television and enjoy her leisure time. Jada enjoys exploring her surroundings as evident by her outgoing nature and her inquisitive interacting with those surroundings.
Mia and Jada are sisters and they love each very much. Although Mia is the older sister, Jada takes on the big sister role as she is more assertive and has a more dominant personality that Mia. Mia is more demure, calm, passive, and overall enjoys making friends with other children. Jada is more introverted and is always encouraged by her older sister to interact socially with other children, and as long as Mia is present and encouraging of Jada, Jada will attempt to follow along with Mia. Mia and Jada have similar interests such as swimming, watching Disney princess movies, and coloring, however, Mia is more feminine as she enjoys playing with dolls, enjoys fashion and shoes, and is more of a social butterfly. Jada enjoys spending time alone, coloring, figuring out puzzles, and appreciating her independence by focusing activities that are geared towards an individual completing them on their own.
Jada's forever family will be a family that is open minded, patient, loving, considerate, and willingness to assist in Jada's emotional, cognitive, and physical development. Her forever family will educate themselves on community resources, support groups, outreach programs, and any other beneficial resource that will assist in raising, caring, and giving Jada the best family life experience with her perspective adoptive parents. Jada would also benefit from a perspective adoptive family that has much support from their families and have a willingness to accept, love, care, and understand Jada, her needs, and the most effective methods of raising and interacting with Jada. Jada enjoys being the center of attention despite being an introvert, as she is very selective of whom she wants to form a healthy bond and attachment. Jada is more comfortable with female figures that represent a maternal role to her.