Jazminka from Texas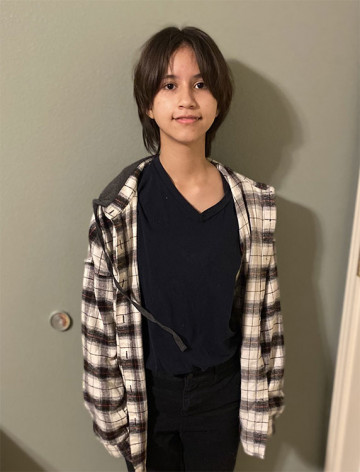 Age 14
Gender Female
Location Texas
Ethnicity Hispanic
Case Number 89281
My Siblings Felix Irma-sophia
---
Jazminka is a friendly, creative, and energetic child. She is very artistic and draws beautiful drawings and portraits. She enjoys reading and takes pride in her arts and crafts. She works on specific behaviors and can be easily redirected for horse-playing or joking around at inappropriate times. Jazminka enjoys attending church services and being part of Sunday school. She enjoys playing on the swing set and watching TV shows. She has a positive connection with her siblings and interacts well with them. Jazminka likes to have fun, laugh, and be silly. She likes going on outings, doing errands, and celebrating all holidays. She enjoys her piano class and has learned to play Harry Potter and Fur Elise by Beethoven. Jazminka would like to become a forensic scientist. Jazminka will be a great addition to a loving and caring forever family.
Irma-Sophia, and Jazminka desire to live together with their forever family. The sibling sisters share many common interests such as creating artwork and listening to music. The girls are both very creative and talented. They each have their own individual style. Irma works well when painting or using chalk outdoors and enjoys collecting items like seashells and Holiday trinkets. Jazminka creates beautiful artwork and enjoys reading on her spare time. The children interact well with one another and enjoy playing with phones or tablets, being outdoors, and creating art projects. Jazminka is well focused in school and understands the importance of an education. The children enjoy celebrating all occasions, have a fun time on outings to the beach, water parks, shopping, and celebrations.
Jazmninka desires to be adopted with her siblings by a two-parent household who will be encouraging of her extracurricular activities. She would like a mom and a dad who will continue to inspire her creativity. Jazminka would like for her forever family to be sensitive. She will benefit from a family who is active and encourages her to develop her talent. Jazminka is a smart and creative child who wishes for parents that will provide an environment with structure and stability. Her forever family will keep her focused on her personal life goals.