Louis from Texas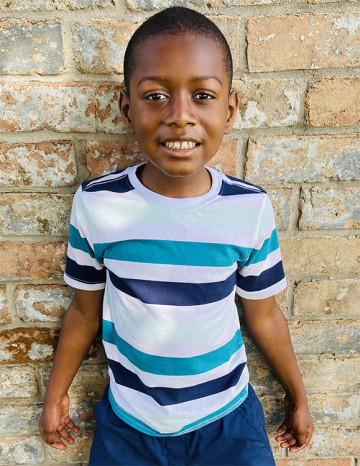 Age 9
Gender Male
Location Texas
Ethnicity African American
Case Number 102569
---
Louis is a nice, very soft-spoken boy who loves out loud. He is appropriately affectionate towards people he feels closest to and thrives on hugs and positive reinforcement. Louis is a caring young boy. He has a keen awareness of other's feelings and is always trying to find ways to help others. Louis loves playing with animals. He is an active child who enjoys playing sports, video games, swimming, and music. His favorite sport is football. Louis hopes to become a professional football player when he grows up. Louis can often be heard singing his favorite songs when he attends church and on car rides. Louis finds joy in life's most precious gifts, nature, and family. He enjoys attending church with family or going out to eat at his favorite restaurants.
Louis and Master are a pair of brothers who are very close to one another. Louis, being the older sibling is very protective of his younger brother, Master. The brothers share a lot of the same interests, with sports being on the very top of their list of favorite things to do. Louis has a more laid-back demeanor, which makes it easier for him to adapt to change. Master is highly energetic and may require redirection often to switch gears. Master loves to laugh and can be quite the jokester. For the most part, they get along well; however, like any sibling group, there are some instances when they may upset one another. In those instances, Master tends to be stubborn while Louis does not like to see his brother upset. Louis tries to quickly diffuse the situation or make amends with his brother.
Louis would do well in a two-parent home; with a strong, male father figure. He gets along well with other children, so a family with siblings would be appropriate. Louis's family should be outgoing and adventurous.