Quan'travion from Texas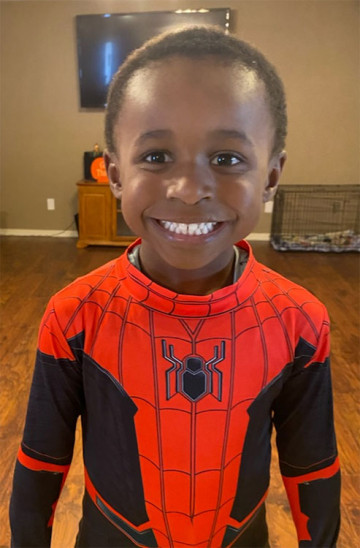 Age 4
Gender Male
Location Texas
Ethnicity African American
Case Number 104447
My Siblings Quinton
---
Quan'Travion is a very joyful, active little boy. His nickname is "Quan." When in a good mood, he loves to giggle and play with the foster family's pets and his brother, Quinton. Quan can be very affectionate; he enjoys giving people hugs. He loves to be outdoors, playing sports and playing with his older brother. He does well with other children and animals. Quan has a great imagination and is easy to entertain. He loves Marvel characters. He thrives with one-on-one attention. He attends daycare, where he can be around others his age. He enjoys being around other children but does seek attention from adults. Quan benefits from redirection often, as he gets overly excited at times. He would benefit from being in sports as he is a ball full of energy.
Quinton and Quan'Travion are very bonded brothers. Quinton is the oldest brother, and he is very protective of Quan'Travion. He is energetic and enjoys making people laugh by telling jokes and showing off his dance moves. Quan'Travion looks up to his older brother, Quinton. He enjoys listening to music, playing with Marvel characters and attending Sunday School and church. Quinton and Quan'Travion are both full of energy. They enjoy making arts and crafts together, playing outside and attending church. Quinton and Quan'Travion do well with dogs and enjoy being around animals. Quinton and Quan'Travion are loving boys who show affection by giving hugs. They both enjoy spending time outside in the fresh air going to parks and climbing on playscapes. They also enjoy spending time at zoos, looking around at the animals. Quinton and Quan'Travion like spending time in the kitchen helping cook. They enjoy a wide variety of healthy foods and open to trying different things.
Quan'Travion will best benefit from a two-parent home with a mom and a dad. If there are other children in the home, the children would need to be much older as Quan'Travion requires a lot of attention. His forever family will ensure Quan'Travion receives supportive services as a family. Quan'Travion's forever family will be dedicated to him. His family will provide him a lot of support and understanding as well as structure and consistency. Quan'Travion's family will love him unconditionally and be patient with him.