Ruby from Texas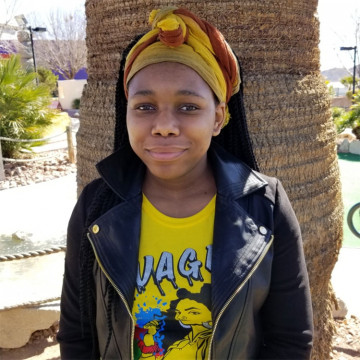 Age 17
Gender Female
Location Texas
Ethnicity African American
Case Number 92125
My Siblings Makayla
---
Ruby is a smart, funny, sarcastic, and optimistic teenager. She thrives off approval and highly appreciates individual attention. Ruby enjoys reading and loves novels. Her favorite subject in school is history. Ruby's goal is to attend college someday. She likes being a part of the Upward Bound College Prep Program. Ruby enjoys doing science projects. She likes to watch television and films, such as Twilight movie series. Ruby reports she also likes to hang out with other teenage girls with the same interest as her, listen to music, go shopping, and go to the movies. She also likes to eat out with fried chicken and pizza being some of her favorite foods. Ruby likes to participate in cultural activities that enhance her learning about her own culture. She likes to care for the pet cat in the home. She likes to nurture the cat and play with the dogs in the home. Ruby really enjoys a stimulating home environment and she enjoys spending time with her sister.
One of our favorite things to do as sisters is sitting and talking about our day together. We enjoy talking with each other about everything including our friends, school, and everyday life. One thing we look forward to is having discussions as a family, and we can't wait to do so with our forever family! We also like to tell jokes and joke around with each other. This also serves as bonding time for us. We like to make others laugh as well. We enjoy playing video games and competing against each other. We both love animals. We enjoy being outside and love going to the park. We both enjoy attending family events such as birthdays, holidays, and amusement parks such as Six Flags Over Texas. We both love school. One of the activities we highly enjoy doing together is watching movies. Visit us at the Heart Gallery of the North Texas.
Ruby is looking for a family with a caregiver or caregivers who are nurturing, experienced, energetic, fun and loving. Ruby needs a family who enjoys family discussions and spending time as a family. She will do best with caregivers who can set clear, understandable expectations with rewards for good behavior and lack of rewards for unwanted behavior. Her family needs to be patient, understanding, and build trust with Ruby to make her feel like she is a part of a forever family.