Sergio from Texas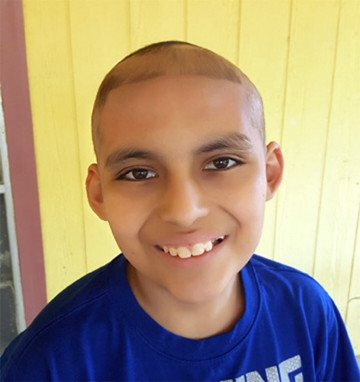 Age 15
Gender Male
Location Texas
Ethnicity Hispanic
Case Number 78592
My Siblings Dennis
---
Sergio is loving, affectionate and enjoys giving hugs. He is still developing his verbal communication skills but has made a great deal of progress in participating in conversations. Sergio is diagnosed with a seizure disorder and Autism Spectrum Disorder. Sergio loves to Face Time with his caseworker and he always ends the calls by blowing kisses. Sergio likes to play on the playground, color, watch cartoons, ride his bike, do puzzles and "spin" coins. He also enjoys making beaded bracelets. Sergio had the opportunity to participate in several therapeutic horsemanship classes and thoroughly enjoyed them. Sergio enjoys swimming and was very excited at Christmas when he received a snorkel from the principal at his school. His three wishes are to see Mickey Mouse, have his own jewelry making business, and to grow a mustache.
Meet Sergio and Dennis! They are affectionate, enthusiastic, and have lots of energy. Sergio enjoys participating in family outings. Sergio likes to color and build puzzles. Sergio has a great appetite and likes most any food. He enjoys going to restaurants where he can play in the playground areas. Dennis loves to color and interact with his siblings. He also loves to play outdoors. Dennis is a very active child. He has trouble sitting still and loves to run around and keep busy. They are very bonded to one another but they do argue and fight, like typical brothers. However, they generally respond well to redirection. Sergio and Dennis also enjoy playing with one another on the playground, riding bikes, coloring, and working on puzzles. They enjoy being active together and spending time together.
Sergio will need a family who can provide him with a great deal of patience, consistency, structure and supervision. Ideally he will have a two-parent family, with a strong support system. His forever family will have knowledge, experience, or be willing to learn about working with children who have autism. Sergio had surgery to remove a malignant brain tumor in April of 2017. He received seven rounds of chemotherapy and radiation treatments, which he completed in January 2018. Sergio is now cancer free.