Taurus from Texas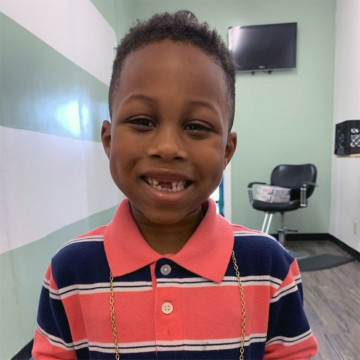 Age 6
Gender Male
Location Texas
Ethnicity African American
Case Number 94547
My Siblings Elijah
---
Taurus is a bright and energetic boy! He loves to play outside. His favorite outdoor activities are riding his bike or scooter and swimming. Taurus is very creative and likes to read and draw. He often reads books to his younger brother. Taurus enjoys spending time with his younger brother, Elijah, and learning new things. Taurus hopes to grow up and one day become a nurse or doctor because he loves to take care of people. His teachers describe him as a leader. His favorite superhero is Iron Man. Taurus hopes his forever family enjoys cooking. He enjoys helping in the kitchen as often as possible. His favorite type of food is barbecue, specifically brisket and sausage. Taurus always has a huge smile on his face!
Taurus and Elijah are best friends. These brothers love to play together. You usually do not see one without seeing the other. They both loves watching cartoons and movies on Netflix together. Taurus and Elijah are always making jokes together. Taurus takes his role as the big brother seriously and is very protective of Elijah. Taurus is always teaching Elijah new things. They enjoy being outdoors and running around. The brothers like to use their imagination and play pretend stories with their toys. They both love superheroes! Their teachers describe them both as leaders and good helpers. Both brothers are outgoing and make friends easily. They agree on the fact that brisket is the best food option. Taurus and Elijah hope to have a home where they can play outdoors, go swimming often, cook food together, and have quality family time!
Taurus will benefit from a patient and kind family. He would like to be a part of a family who is active and enjoys the outdoors. Taurus will thrive in a family who continues to strengthen his connection with his brother in their forever family.