Tracy from Texas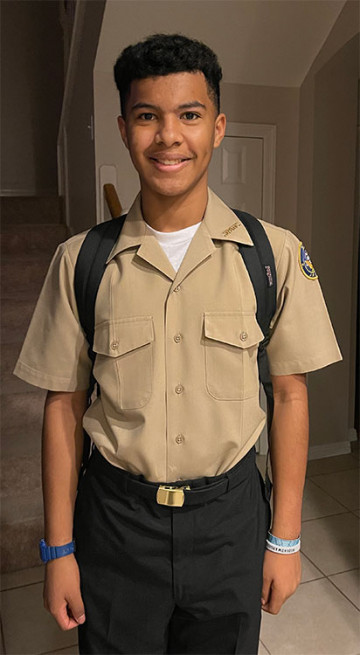 Age 16
Gender Male
Location Texas
Ethnicity Hispanic
Case Number 85802
---
Tracy is a lovely and kind young man. He is polite and very respectful. He is friendly and loves joking around. Tracy enjoys making those around him laugh until they cry. He may appear shy initially, but his bright smile shines through when he feels comfortable. He absolutely loves superheroes. Marvel superheroes, to be exact. Tracy strives to have the qualities of a superhero. He believes superhero qualities are dignified and works daily to attain those personal qualities. Some of Tracy's other hobbies include collecting Magic and pro football cards. He has a younger sister whom he loves spending time with. Tracy takes pride in being the older sibling and loves offering worldly advice. He has expressed that he would like to join the Armed Forces after graduating high school. Tracy has also expressed an interest in acting and would enjoy participating in acting classes.
Tracy and Darleesia are two energetic siblings whom will tug on your funny bone and keep you laughing all day long. Tracy loves Marvel superheroes and can carry on hours-long conversations about everything Marvel. Darleesia is a typical girl and loves singing, dancing, and fashion. Tracy and Darleesia both love food and often find themselves bonding over a really good meal. These siblings have incredible imaginations and can make up very wild and entertaining stories. This sibling group has an amazing bond. They love each other very much. They love spending time together. They enjoy getting to be active outside. The siblings often challenge each other to a serious game of H-O-R-S-E. The game may start out serious but ends in bouts of infectious laughter. Tracy and Darleesia are an adventurous bunch and can't wait to get out there to explore!
Tracy's forever family will be helpful, nice, and friendly. His family will be structured with a consistent routine. He will thrive in a two-parent home, with one stay-at-home parent preferably. Tracy would prefer to have a mother and a father. Tracy's family will continue to advocate for his educational needs. His family will also help him maintain his connection to his younger siblings.