Zeus from Texas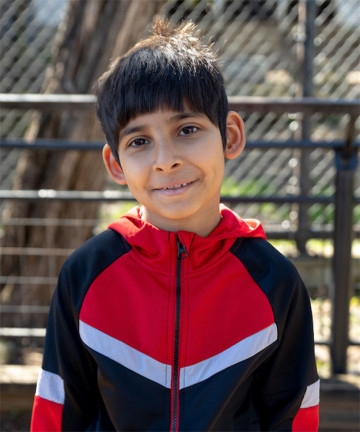 Age 9
Gender Male
Location Texas
Ethnicity Hispanic
Case Number 105010
---
Zeus is a happy young boy who is always smiling and laughing. He is a social child and opens up quickly to others. Zeus loves Legos, a remote control car, and hot wheels. Zeus's favorite foods included enchiladas and spaghetti. He has expressed that his personal space is significant; he prefers his own bedroom. He has a great deal of energy and enjoys being active. Zeus reports being the fastest kid at his school, and he likes to play tag. He likes to play outside; his favorite sport is soccer. He enjoys attending church on the weekend with his siblings, whom he is bonded to. Academically, he is doing well and appears to enjoy school. Zeus will be a great addition to a loving and caring forever family.
Helena, Zoeline, Adian and Zeus are a loving and closely bonded sibling group. Helena is the eldest child and protector of the group. The siblings enjoy spending time together and look forward to their time together. Helena is always quick to lend a helping hand to her younger siblings. The four love watching funny movies together, spending time outdoors playing games such as cornhole or roasting smores. The siblings also appreciate having their own individual spaces, where they can take time to themselves when needed. To that end, they prefer having their own bedrooms. All of the siblings enjoy putting together Legos and expressing their abundant creativity in many other ways. They would be a wonderful addition to an active and welcoming family.
Zeus would benefit from a structured two-parent household. His forever family will ensure that he is able to maintain important and appropriate relationships. Zeus would like to continue living in the central Texas area, preferably in a home with a lot of space for him to run and play. Zeus's forever family will be patient, caring and loving, and ready to help Zeus with the transition.