As an adoptive mom, I feel like I have got the best education and insight from birth mothers. These amazing women often have misconceptions about them, and I am on a mission to help debunk some of those because they are some of the best people that I know. Did you know that only 1% of women in unwed pregnancies choose adoption? These are the 1% that I am proud to know and call my friends. This will be an ongoing series of asking questions to real birth moms to educate and hopefully show the world what is really in their hearts. If you are hoping to adopt I would highly recommend that you get to know and become friends with birth moms. It will be one of the best things you can do for your adoption!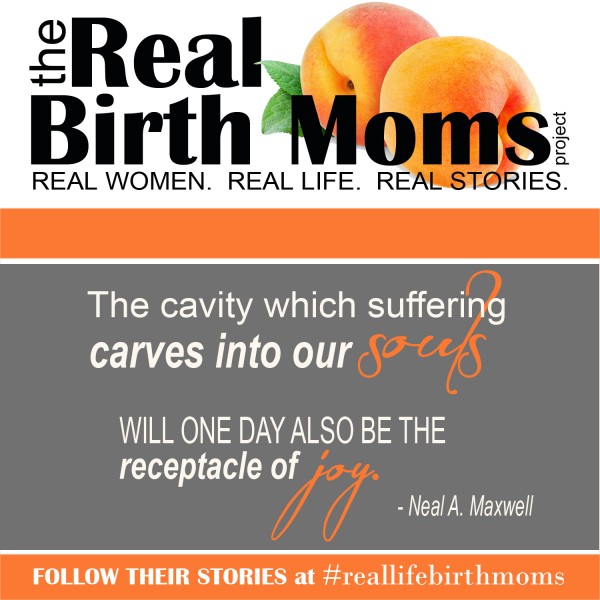 Here is the next question in our project:
What helps you live your life in your new normal?
To be able to see my birth son, see him grow up. In an amazing family. – Makena
Time. Starting over COMPLETELY–clean slate. Patience and forgiveness for myself. Hope. PRAYER. – Tamra
When I was seven months pregnant, I met a man who did not judge me. I honestly feel he saved my life. The fact he stuck around when I was pregnant with another man's baby and stuck around after, shows his amazing character. He is, and continues to be my "safe haven." – Lauren
My family help me live my life in my new normal. Surrounding myself with positive and loving friends. – Roanne
I remind myself every day that I am enough, no matter how much my heart hurts. I am good enough to be loved. I am worthy of love and support. I am reminded of this by my support group. – Alysia
The support from the adoption community online. It means the world to be able to share with others who understand or have been touched by adoption. – Catarina
Embracing it, owning it and giving back to others in the journey. – Sherri
Finding new ways to define myself. I no longer let my pain and sadness lead me. Now I search out new ways to succeed and lead with love. – Melanie
My open adoption. Being able to be a part of their lives. My husband loving me, respecting me and celebrating me as a birth mom. Being open with my children […] on who their birth siblings are to them. And that my children are able to be a part of their birth siblings' lives. Being a part of the adoption community. Being able to help other birth mothers heal and find their new normal. – Jeanie
I am open about my placement and story with anyone who wants to know. I have photos of him in my house and a friendship with his parents. – Shanna
I am 31 years post-adoptive. Reunited four years ago. I was there for the birth of grandchild four and five. . . twins (doubly blessed). – Annette
My church and support groups that help me see there's more to my life then just a birth mom. – Margaret
I think what helps me is how the adoptive family is with me. We can talk about things and talk like friends, and so it feels like it is normal. It helps that my family is very happy with it and supportive in it. They see all the good in it and love me and love the adoptive family. – Lauren P.
Something that has helped me live normal is knowing the kids I placed know the kids I'm raising and that they have a relationship with each other. – Sonya
The thing that helps me live my life in my new normal is the new friends I have made who understand that adoption isn't easy. Also, setting goals and trying to be a better person, the kind of person that he will always want in his life. – Lindsey
I always knew I had to be an example to my daughter. I wanted to be able to give my future children what I knew she would have through the gift of adoption. – Katelyn
This is not new to me, I've been living it for 37 years. – Bridget
Honestly, what has helped me live my new normal, is my family and the birth father. – Rachel
Want to read more? Go to:
The Real Birth Moms Project | Part One
The Real Birth Moms Project | Part Two
The Real Birth Moms Project | Part Three
The Real Birth Moms Project | Part Four
The Real Birth Moms Project | Part Five
Are you a birth mother? Answer this question in the comments below! Let's all educate the world on REAL birth moms and not stereotypes.