The Commonwealth of Pennsylvania is located in the Northeast of the United States. Pennsylvania is home to Hershey, the first home computer, the first daily newspaper, and the first baseball stadium in the United States. If you are experiencing an unplanned pregnancy in Pennsylvania, here are the top ten things you need to know about adoption in PA:
1. You Have Options
When you are unexpectedly expecting a child, you may be experiencing a roller coaster of emotions. You may feel that your life was going one way, but the onset of pregnancy has led your life another way. You may feel like you have no options, but essentially you have three—terminate the pregnancy, parent the child, or place the child for adoption. If you are exploring placing your child for adoption, the first step is to gather as much information as you can about the process. This article is an excellent place to begin, and the links provided will help you make the right decision.
2. There are Different Types of Adoption
For expectant parents considering adoption in PA, it can be confusing to navigate through the different types of adoption. In Pennsylvania, adoption may occur from private domestic adoption, international adoption, adoption from foster care, kinship adoption, stepparent adoption, and embryo adoption. The first three are the most common forms of adoption, but as an expectant parent, you are likely considering either private domestic adoption or kinship adoption. Private domestic adoption refers to the adoption of an infant by adoptive parents who are not related to the child, the birth mother, or the birth father. The birth parents may select the prospective adoptive parents, or decide on a closed adoption. Once consent is given to the adoption, the parental rights of the birth parents are terminated and the adoptive parents are granted those rights. Adoption is legally binding and as such, adoptions must be finalized in a court of law. Each year, roughly 20,000 private domestic adoptions take place in the United States. The adoptions may be facilitated by an adoption agency or pursued independently. Kinship adoption refers to the adoption of an infant by an adoptive parent who is biologically related to either the birth mother or the birth father. Like private domestic adoption, kinship adoption is a legal act and must be finalized in a court of law. Though the idea of legal help may seem daunting, any good adoption agency or adoption facilitator can help guide you through the process.
3. The Birth Father Has Rights
Finding out you are unexpectedly expecting can be challenging enough without having to share the news with family and/or close friends. While you may decide not to share the news of your pregnancy with your family members, the expectant father has the right to know. Telling the expectant father you are pregnant can be a difficult conversation to have, but if the expectant father is in the picture, he will need to consent to the adoption of your child. However, if for any reason you feel unsafe having the conversation with him, bring a friend along with you, or choose to have your adoption agency advocate or adoption facilitator present when you share the news. If even this makes you uncomfortable, then the adoption agency or adoption facilitator may have the conversation on your behalf. Your safety and the wellbeing of your child are of the utmost importance and you should never be made to feel that you are in a place where you have to compromise on either. If the expectant father is not in the picture, then the adoption agency or adoption facilitator will work with the Pennsylvania putative father registry to try to identify the expectant father. If the expectant father is identified, he will be notified of your pregnancy and your intention to place your child for adoption. The expectant father then has 60 days to either give his consent or to make known that he wishes to parent the child. If the 60 days pass without notice from the expectant father, then his parental rights will be terminated, and the expectant mother will have full parental rights over the child and may give her consent to the adoption on her own.
4. You Can Use an Agency—Or Not
For expectant parents considering adoption in PA, you may decide to either place your child with the assistance of an adoption agency or with an adoption facilitator. In Pennsylvania, it is legal to work with an adoption facilitator, but many expectant parents may find it is easier to work with an adoption agency. The main difference between the two is that an adoption facilitator is not a licensed child-placing agency. An adoption facilitator will help you identify prospective adoptive parents, and connect you with an adoption attorney to complete your adoption. Adoption facilitators are typically found by word of mouth, and some expectant parents and prospective adoptive parents find the process more intimate than working with an adoption agency.
On the other hand, a good adoption agency will support you from the day you contact them through the years to come. Agencies are typically on hand 24 hours a day, seven days a week, to offer any support you may need. The process of adoption can be a complicated one, and it is important as an expectant parent to understand your rights, what is needed to complete your adoption plan, and what type of resources and support is available to you within your state and community—should you decide to place your child or should you decide to parent. For example, The Gladney Center for Adoption is a great child-placing agency that works with expectant parents in all 50 states.
5. You Can Choose the Adoptive Parents—Or Not
As an expectant parent pursuing adoption in PA, you have the right to choose to place your child with whatever prospective adoptive parents you choose, provided those prospective adoptive parents have an approved and valid home study done in their state of residency. All prospective adoptive parents will need to complete a home study before placement, which ensures that all child abuse and neglect clearances have been completed. The other benefit of a home study is that prospective adoptive parents must describe their motivations for adoption, what life with their family will look like for the adoptive child, and what their hopes and dreams are for that child. Prospective adoptive parents will then compile parent profiles which you as an expectant parent can search. Some profiles have photos and essays and letters, others are video messages. Consider what is important to you: do you want to be geographically close to your child? Do you want them to grow up in a city, the suburbs, or in a rural environment? Is religion important to you, or race, or ethnicity? What hobbies and interests do you hope the prospective adoptive parents have to pass on to your child? And if you choose not to choose the prospective adoptive parents for your child, that's okay too. Your adoption agency will be able to place your child via a closed adoption.
6. You Can Choose the Type of Adoption Contact
Just as you can choose the prospective adoptive parents for your child, you may choose the level of openness of your adoption. There are three levels of contact in adoption: open, semi-open, and closed. No two adoptions are alike, and what works for one adoption triad may not work for another. In an open and semi-open adoption, the adoptive parents and the birth parents maintain a level of openness—beginning in the lead up to the birth and in the years to come. Post-placement, contact may come in the form of in-person meetings or video chats, in open adoption, or phone calls and letters with pictures, in semi-open adoption. Open and semi-open adoption have increasingly become the norm in the United States, with roughly 70% of private domestic adoption having some level of openness. In a closed adoption, the adoptee understands they were adopted, but the identity of the birth parents is known to neither the child nor the adoptive parents. The child may decide to search for their birth parents once they reach the age of 18, at which time they may access their records via the registry. In the state of Pennsylvania, post-adoption contact contracts are legally enforceable, provided the contract is presented in court when the adoption is finalized. The post-adoption contact contracts are completely voluntary, so they are not necessary to sign and submit to a court. That said, as an expectant parent, it is still a good idea to work with your adoption agency and/or adoption attorney to create a post-adoption contact plan.
Pregnant and considering adoption?
Get your free adoption benefits and support bundle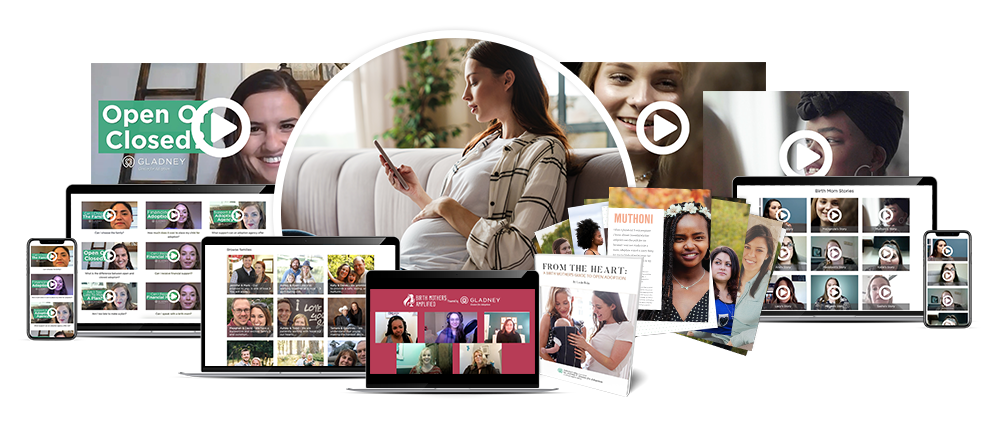 7. You Will Have Support During Your Pregnancy
For expectant parents considering adoption in PA, know you will have support during your pregnancy. Placing a child for adoption costs you nothing and per the laws of Pennsylvania, your legal fees, counseling fees, medical fees, transportation to and from medical appointments or appointments related to your prospective adoption, and reasonable living expenses may be covered by your adoption agency and/or the prospective adoptive parents. All paid expenses must be submitted to the court before the adoption being finalized, but your adoption agency or adoption attorney will handle this for you. In addition to financial support, expectant parents working with an adoption agency, such as Gladney, can expect to receive counseling and support, should you need housing during your pregnancy. Additionally, post-placement, a good agency may offer vocational advice, school scholarships, and other supportive programs to help you achieve your goals.
8. You Will Have Support During Your Delivery
When it comes time to deliver your baby, know that you will have the support of your adoption agency or adoption facilitator with you. Before going into labor, your counselor will help you make a hospital plan for your delivery. Making a hospital plan is important as you will be emotionally and physically exhausted during the labor itself. A hospital plan will include your wishes for who you would like in the delivery room with you if you would like time alone with your baby, and when you wish the adoptive parents to be present. Your hospital plan may change at any time, but giving some forethought to your expectations for the day will help both yourself, the hospital staff, and the adoptive parents prepare.
9. You Must Consent to the Adoption
Once you give birth, you must wait 72 hours before you can consent to an adoption in PA. During those 72 hours, you are the child's legal guardian and may make decisions on that child's wellbeing. During the 72 hours, you may decide to keep the child with you, or you may wish to have the child reside with the prospective adoptive parents or some combination of the two. If at any time during the 72 hours, you change your mind and decide to parent the child, that is okay too. A good adoption agency will still be able to offer you support and direct you to resources so you may parent. Should you wish to give consent after 72 hours, the consent must be witnessed by two people, who will sign the consent form along with you. The birth father will give consent at this time as well if he has not done so already. In Pennsylvania, the birth father may give consent at any time before the birth or within the 72 hours following the birth. Once consent is given, you will officially become a birth parent, and your child will officially be placed with their adoptive parents.
10. Becoming a Birth Mom is a Gift
Adoption can be a long, difficult journey, but with the right support and the right adoption agency or adoption facilitator, it can be easier. Know that in the days following your placement, you will experience grief, relief, doubt, and uncertainty. But know that others have walked this same path and are there to support you. Choosing adoption for your child does not mean that you do not love that child. Rather, it means that you love both yourself and that child enough to give the extraordinary gift of a beautiful life.
Are you considering placing a child for adoption? Not sure what to do next? First, know that you are not alone. Visit Adoption.org or call 1-800-ADOPT-98 to speak to one of our Options Counselors to get compassionate, nonjudgmental support. We are here to assist you in any way we can.