Alijauh from Texas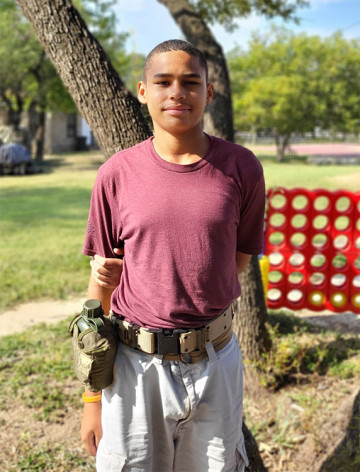 Age 13
Gender Male
Location Texas
Ethnicity Hispanic
Case Number 86080
My Siblings Xavier
---
Alijauh is a bright, energetic boy who enjoys a variety of sports, swimming, and playing at the park. He loves learning social studies and science, but his favorite subject is math. Alijauh enjoys eating and if it was up to him, he would probably eat chicken alfredo, pizza, or mac and cheese for dinner every night. Alijauh is learning new skills to manage his behavior and improve his decision-making skills. He is making steady progress and benefits from guidance along the way. Alijauh prefers to be involved in many activities and he would enjoy playing sports year round. He enjoys the company of his foster brother and friends. They often play sports and have fun being silly and laughing. Alijauh also likes to be creative with his art, crafts, writing, and drawing.
Alijauh and Xavier look forward to joining a family who will keep them on their toes. The brothers dream of a family who will welcome them and provide them each with love and attention. Xavier looks up to his big brother, Alijauh, and enjoys playing games with him. They have a strong sibling connection with each other. These two enjoy all types of sports and projects that keep them busy. Xavier also enjoys playing video games with others. Alijauh looks out for Xavier and feels like his protector. They both have their own talents and both of the boys are optimistic about their future. Together these two brothers have an extraordinary relationship and look forward to sharing their love and laughter with their forever family!
Alijauh wants a family with two parents who can offer him consistency and a safe place where he can freely express himself. His parents will provide him stability and patience while he learns new routines and expectations. Alijauh would prefer to live in a city because there are more opportunities for activities in the city. He looks forward to playing sports and hopes his forever family will come to his practices and games to support him. He would love a family who has a good sense of humor and is large, so there are plenty of people to play with and be around. He is looking forward to spending quality time making memories with his forever family and he hopes to take trips to places like theme and water parks. His family will be outgoing, fun, and enjoy spending their time with him.