Gabriella from Texas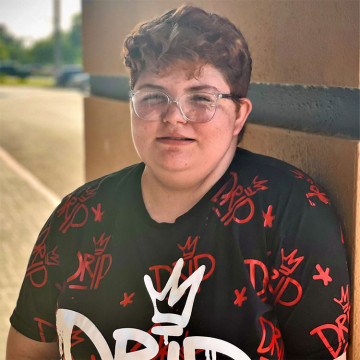 Age 15
Gender Female
Location Texas
Ethnicity Hispanic
Case Number 96131
---
Gabriella is sweet, shy, and a reserved teenage girl. She enjoys writing, listening to music, watching football, and is currently learning to play the guitar. Gabriella style is more Tom-boyish as compared to her younger sisters. After her initial shyness, she is very outgoing. She attends the Boys and Girls club every day after school and really enjoys it. Gabriella was part of the school choir recently, which she enjoyed very much. In her spare time, she watches YouTube, and enjoys movie nights with her siblings. She likes to enjoy watching some tv during her downtime, her favorite TV show is Grey's Anatomy. She is currently in a foster home, and she is described as very helpful around the home. At times, she can be defiant and can get easily frustrated with her younger siblings. Gabriella will be a great addition to a loving and caring forever family.
As the oldest of the four, Gabriella is very much used to be the responsible one and taking care of her siblings. Since being in a foster home Gabriella does not have to hold this burden anymore and she has been able to be a kid again. She has flourished and opened up. Gabriella, Jon, Abigail, and Areanna have a close bond with one another. At times, they can argue and get frustrated with each other, but nothing out of the ordinary of sibling quarrels. Jon tends to get on Abigail's nerves the most, but once they separate for a bit, they cool down. Abigail is very energetic and is way more emotional than her siblings. She has a big heart and is naturally an empathetic person. Areanna and Abigail are especially close due to the girls being so close in age, they enjoy every moment they get to spend together. Areanna is the youngest and does have the most energy of the bunch, she has struggled with boundaries and redirection but has and continues to improve greatly. The children wish to remain together and it's a very sensitive topic especially for Gabriella.
Gabriella would like to have a family of either a single parent or two parent home. Her forever family will be patient and flexible. They will help her and her siblings adjust into their new home. Gabby loves having pets and would like a family with one or several pets. Gabriella's family will provide a consistent routine and structure in Gabriella's everyday home life. Gabriella's family will be open and accepting of her for who she is, who could provide her some space to herself as she is older than her siblings and loves them but also likes her own time.