Karaun from Texas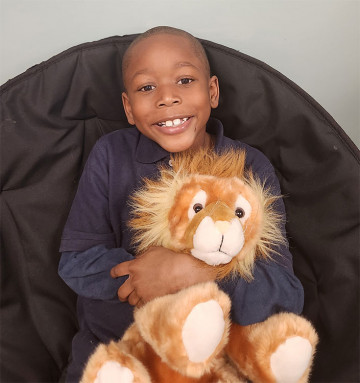 Age 7
Gender Male
Location Texas
Ethnicity African American
Case Number 106972
My Siblings Kiyaun
---
Ka'Raun is a kind, loving and gentle child. He is a ball of energy and loves being outside. He enjoys playing football, basketball and swimming. Ka'Raun wishes to be a professional basketball player when he becomes an adult. He is like to be very involved in what he sees and hears around him and wants to be a part of everything going on. His favorite foods are chicken, burgers and french fries. Ka'Raun loves playing tag and other games with his friends. He also enjoys drawing, watching funny cartoons, and coloring. Ka'Raun likes the attention on him and wants to be in control. He thrives in environments and settings that are structured. Ka'Raun would like to be adopted with his brother. He will be a great addition to a loving forever family.
Ka' Raun and Ki' Yaun have a loving, close, supportive sibling connection. Ki' Yaun is a protective big brother. Though he's the youngest, Ka' Raun is equally protective over Ki' Yaun. Ki'Yaun and Ka' Raun have normal sibling behaviors. They play well together but can be a little competitive with one another as well. Ka' Raun and Ki' Yaun can be reserved initially but will open and talk more once they get a feel for the person. They enjoy playing football, gaming on their tablets, swimming and being helpful around the house. Ka' Raun and Ki' Yaun are free-spirited and very outgoing. Each child has their own interests. Ka' Raun enjoys making things with his hands. Ki' Yaun enjoys exploring and learning new things.
Ka 'Raun's family will be a outgoing, patient, and supportive family who will make him feel valued, wanted and loved unconditionally. Ka 'Raun's family will be an active family who likes going on outings and will engage him in activities that allow him to exert his energy. Ka'Raun's family will give him one-on-one attention when needed to help him build his confidence and self-esteem. Ka' Raun will thrive in a nurturing family unit with dependable and trusting caregivers who positively guide him, and give Ka 'Raun reassurance that he can be himself. Ka'Raun responds to reinforcement where rewards are given for positive behaviors and tasks being carried out thoroughly. Ka'Raun requires appropriate redirection that is developmentally suitable for his needs and understanding.