Nevaeh from Texas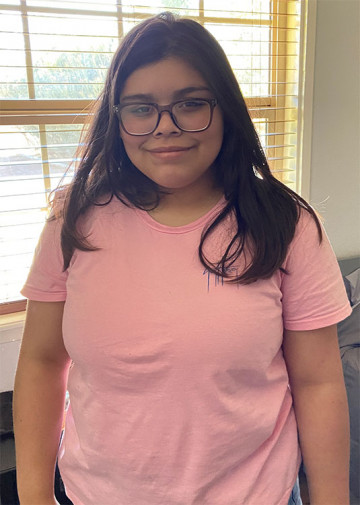 Age 15
Gender Female
Location Texas
Ethnicity Hispanic
Case Number 105308
---
Nevaeh is a talented artistic and creative young lady. She enjoys creating one of kind items out of resin and is always up for a trip to Hobby Lobby. Nevaeh is responsible and kind and looks to her siblings when she wants to be in conversation. She appreciates the ability to have her own space, but also enjoys her friends she makes at school. Nevaeh likes to listen to music on her phone and is always up to try out the new TikTok dance craze. She does well in school, makes above average grades and try's very hard in school. Nevaeh can be very helpful and is very approachable. She is responsible and does well completing her chores. Nevaeh is currently practicing eating better, exercising and living a healthier lifestyle.
Nelly, Nevaeh and Adan are like best friends, they are bonded, they support each other and want each other to do the best they can. Nelly, Nevaeh and Adan really enjoy doing stuff together, like playing board games and just hanging out. Nelly and Nevaeh really look to their brother for support, guidance, and encouragement. Their relationship as siblings has grown to be supportive and their main point of consistency. They want to be kept together and know how to advocate for this wish. With smiles that light up a room and a wonderful sense of humor, Nelly, Nevaeh and Adan love to laugh and be crazy together more than anything else. They can lighten up any situation with a funny joke. They will be a great addition to a loving and nurturing forever family.
Nevaeh's forever family will be supportive of her interest and open-minded. She will do well in a home with either a single-parent or a couple and is open to parents of the same gender. Nevaeh would do well in a diverse home, that will allow her to explore her culture. Nevaeh's family will provide her with structure and stability, in addition to encourage her to explore her interests and her plans. Nevaeh's family will encourage her to continue to make progress towards her goals.