Xavier from Texas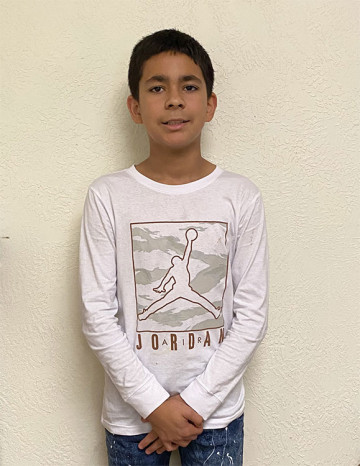 Age 12
Gender Male
Location Texas
Ethnicity Hispanic
Case Number 86079
My Siblings Alijauh
---
Xavier likes to play sports with his friends in his community. He prefers to complete chores quickly so he can have more time to play. Xavier has learned skills to manage his behavior, but still needs reminders from time to time. He enjoys attending new places and meeting new people, even though he initially appears shy. Xavier likes to create with his hands. He tries hard to follow directions, but sometimes needs reminders to listen to instructions. Xavier is respectful and does not want to disappoint others. He has a high energy level, and prefers to stay busy with fun activities. Xavier would really enjoy going camping for the first time. Do you want to go?
Alijauh and Xavier look forward to joining a family who will keep them on their toes. The brothers dream of a family who will welcome them and provide them each with love and attention. Xavier looks up to his big brother, Alijauh, and enjoys playing games with him. They have a strong sibling connection with each other. These two enjoy all types of sports and projects that keep them busy. Xavier also enjoys playing video games with others. Alijauh looks out for Xavier and feels like his protector. They both have their own talents and both of the boys are optimistic about their future. Together these two brothers have an extraordinary relationship and look forward to sharing their love and laughter with their forever family!
Xavier would like a family who spends quality time together playing and watching sports. He desires a family who will give him individual time and attention. Xavier would like to help with family projects and take trips to explore new places. His parents will be patient, take the time to listen to him, and not make hasty judgments. He hopes his family already has children for him to play with. Xavier would also like help his mom cook in the kitchen.