As an adoptive mom, I feel like I have got the best education and insight from birth mothers. These amazing women often have misconceptions about them, and I am on a mission to help debunk some of those because they are some of the best people that I know. Did you know that only 1% of women in unwed pregnancies choose adoption? These are the 1% that I am proud to know and call my friends. This will be an ongoing series of asking questions to real birth moms to educate and hopefully show the world what is really in their hearts. If you are hoping to adopt I would highly recommend that you get to know and become friends with birth moms. It will be one of the best things you can do for your adoption!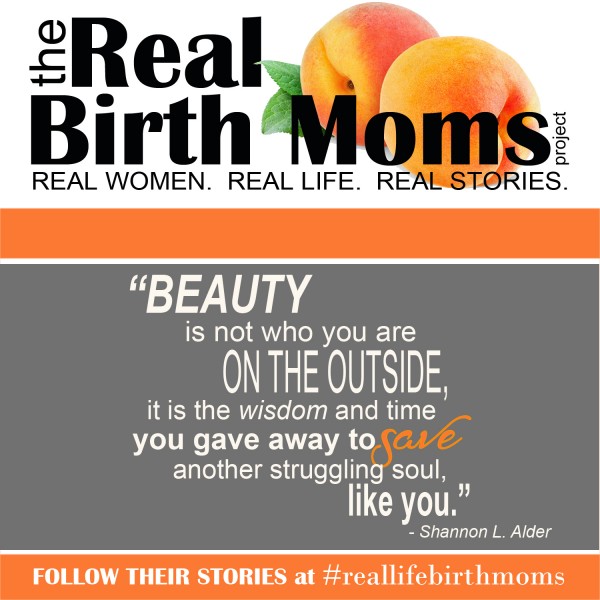 Here is the next question in our project:
What is something about yourself that you love?
I love that I can understand and not judge people. I see the good in people. I don't have any desire to be mean to people. – Lauren P.
I didn't give up. I did it alone. I still when to seminary, school, and church. I still loved and forgave the birth father after he broke my heart. I didn't give up on myself or my god or my birth son's adoptive parents. – Makena
Something I love is the strength I've found within myself over the past year.- Rachel
God knew I would need a purpose and mission, something to keep me from getting stuck or being totally self-absorbed. He gave me opportunities to serve through the story He gave me, and He gave me the insight, the words, and the love to do it. Birth mom and an adoption advocate are two of my very favorite things about myself! – Tamra
I love that I am a friend and mentor to others. Birth moms, adoptive moms, and hopeful adoptive parents. We are all in this together—bridging the gap of understanding to meet in the middle of our child's hearts. – Alysia
I love how strong and independent I am. – Roanne
My kindness towards others, friend or stranger. – Bridget
My ability to connect with ALL people. I love hard. – Annette
I love that I can help others to choose life and consider adoption as an alternative. – Catarina
I love how I proved to myself and everyone else I am not selfish. My dad told me he could not live with the decision of me terminating. I love that I came out on top. I love how I granted my dad a pain-free life when I decided to live with the pain instead. Just because he could not live with my decision, I live with his. I don't regret the decision and outcome. I regret how I got here. – Lauren
I'm learning to love my gift of compassion that comes with being overly sensitive. – Sherri
I am compassionate, and I love with my whole heart. – Melanie
I love my ability to love. I forgive and forget easily. I've always think about people starting out as a sweet innocent baby, so they were lovable at some point. – Jeanie
I love that I am a good friend and would do anything for the people closest to me. – Lindsey
I love that I am very self-motivated and self-reliant. – Shanna
I'm an open book and totaly willing to share my life experiences with anyone who needs it. – Katelyn
I love that I can be open and honest and share my life story in order to help another. – Margaret
I love that I can allow myself to have good days, whether it be adoption related or not. – Sonya
Want to read more? Go to:
The Real Birth Moms Project | Part One
The Real Birth Moms Project | Part Two
The Real Birth Moms Project | Part Three
The Real Birth Moms Project | Part Four
The Real Birth Moms Project | Part Five
The Real Birth Moms Project | Part Six
The Real Birth Moms Project | Part Seven
The Real Birth Moms Project | Part Eight
Are you a birth mother? Answer this question in the comments below! Let's all educate the world on REAL birth moms and not stereotypes.